We can't believe it's been 5 years since we started Gronde Photography! (fun fact: Chris originally named HIS business Chris Gronde Photography... That ended quickly. lol) We started this business during a horrible recession and statistics show that even during good economic times, most start-ups don't make it past 3-5 years, but here we are! We've had our up years and our down years, but we truly appreciate the support of those of you that have followed our journey; through either being the most amazing return clients or even just those who follow us through social media and this blog.
This past year we were honored once again to receive the coveted Wedding Wire Couples Choice Award,. This marks us in the top 5% of Washington, DC Wedding Photography based solely on the reviews from our past real couples (your reviews really do matter to us!). We also, once again, received the Editors Choice Award from Two Bright Lights for providing amazing photography to local and national magazines, blogs, and other publications that seek us out time and time again to feature in their outlets!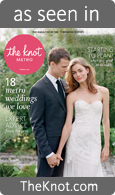 We have also expanded our reach to new brides! Previously we spent most of our concentration on WeddingWire.com because we felt they had a higher dedication to local vendors, but after several phone calls and conferences and the launch of their new site we are proud to be new partners of TheKnot.com! When a new bride goes to look for Washington, DC Wedding Photography we will prominently be shown on the first page of their search! With our new storefront on their site we need YOUR help! If we have photographed your wedding or even just your engagement photos please take a minute and click the
link
below and tell TheKnot about your experience with us so new brides can feel better about picking up the phone and setting up a consult with us because they have heard it directly from you!

What we are most excited about is this next year! We have re-branded with a fresher simpler logo, cleaner website, and a new devotion to providing the best service of any photographer in the area and we owe a lot of it to the reviews and feedback we have received from you!
First off we present to you...our new logo!
Our name is first and foremost. It is very important to us and needs to be unmistakable. Then there is our iconic butterfly. There is a chalkboard butterfly above the desk in our studio that has the quote written on it: "Without Change, there would be no butterflies". Change can be scary sometimes, but when it happens the outcome can be some of the most beautiful moments of our lives! These are the moments we want to be there for: Graduating Seniors, Engagements, Marriages, Newborn Babies, 1st birthdays, and every year following! This new logo shows a side-view of two butterflies that are coming together, but once they are together they appear to be one butterfly. There is one thing we love more than weddings and that is marriage!... strong, long lasting, inseparable, beautiful marriage. This icon, to us, is our vision of marriage. Two people becoming one inseparable union and it's something we want you to feel in your own wedding photos when you see them. The final thing is our new tag line. "Imagery for the soul" is something that we want our clients to see and think about when they see their images and think about where to hang them in their home. We want our images to be more than just a capturing of a moment in time. We want them to tell your story. Whether it is the story of your wedding or starting your family, we want your images to be a constant reminder of the feelings and memories from those times in your life and bring peace to your soul every time you walk by them or show them to others. We are so very excited to show this new logo and image for Gronde Photography to all of our new clients!


The next big thing on our minds this year is our 2015 Dedication to Service! There are a lot... and we mean a LOT of photographers in the greater DMV (DC, Maryland, and Virginia) and a lot of them are really good photographers and some of them aren't. Some charge 10k per wedding and some charge under 1k a wedding. There's your small privately own studios and then there's your "wedding entertainment conglomerates" where you can get your DJ, photographer, caterer, coordinator, dress, cake, favors, flowers, and everything else from one place like some kind of "Wedding Wal-mart". A lot of these photographers charge about the same or maybe even less than us. A lot of them take pictures that are just as good as ours; however, there is a lot more to your wedding and the months leading up to your wedding besides the photos and how much they cost and that is where we want to shine brighter than any other photographer in our area! We want to provide the best possible service that money can buy. We want to be your favorite vendor from your wedding! We want you to come back to us when you start a family and have maternity pictures and newborn pictures and so on. The first thing we did was completely redesign our wedding packages to put more emphasis on providing a complete service to our brides. One way we have always done that is by providing TWO photographers with EVERY package and every session. Something we have added to our new packages is that every single package includes an heirloom wedding album. If there is anything that every bride and groom should leave their wedding with it's an album. Maybe your first apartment together isn't big enough for huge canvases on your wall, but every couple should have an album that they will one day flip through with their children and talk about that day with them. We encourage you to read reviews from our past brides on The Knot, Wedding Wire, or our website and see what they are already saying about our dedication to service!
Something else new we want to announce here is something we are kicking off TODAY! We're calling it "Client for Life"! This is something that we are including with the top wedding package of our Gronde Photography Signature Wedding Clients. We want our brides to come back to us year after year so badly, that we are going to do it for free! Yes, you read that right... FREE! After your wedding, every year until we can't physically hold a camera any more you will get one free session to use on anything! Family photos, newborns, boudoir, whatever you want. That is how dedicated we are to serving you and making lasting relationships with our clients! If you are a past bride (or portrait client) and are interested in this. Please
email
us today and let's talk about it!
One more thing... and this is something you are going to want to share so please forward this on to all of your newly engaged friends. Because this is the 5 year anniversary of Gronde Photography and we want to serve as many newly engaged couples as we can this year and next so we can REALLY test out our new brand: if you
email
us and set up a consult with us during the month of April or May we are offering
$500 off ANY wedding package
(to include our new Gronde Photogrpahy Signature Wedding Package) for our remaining 2015 or 2016 wedding dates! Can you believe it?!?!
Thank you all so much for reading and following year after year! If we had the chance to serve you last year... tell us down below what your favorite memory with us was! If you're a new client or just a follower: What is something you are looking forward to or would love to see from us in 2015? Please, stick around and keep following! We have so much more to share with you in this next year, including an announcement next month that we are BEYOND excited about, but can't spill the beans just yet! Thank you all again from the bottom of our heart!

Chris and Brandy
Gronde Photography